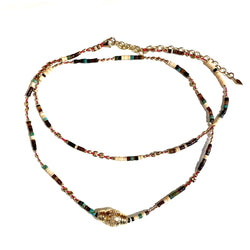 A strand of multi brown shell and turquoises and gold-plated beads on a red cord create a fanciful, feminine look when wearing this delicate necklace. Large gold plated 18k pendant in its center. Best sera it as a double choker but can be worn long too.
Dimensions: 14,5-23,5'' long
One of a kind piece. Adjustable.
Handmade in our Parisian workshop.