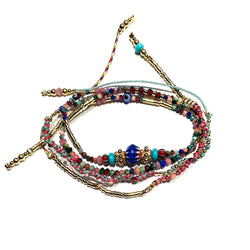 Strung with gold-plated beads and variations of semi-precious stones, these handmade, one of a kind charm bracelets possess a unique artisanal feel that will put an exotic spin on any outfit. Choose from combinations of tourmaline, carnelian, garnet, labradorite, agates and moon stones. Wear as a bracelet or coil loosely around the neck as a long lariat.
Dimensions: 73cm (Wraps around the wrist approximately four times. Adjust and tie as desired)
Materials: Combinations are unique and vary as above.
Handmade in our Parisian workshop.